ART OF POSSIBILITIES ART SHOW & SALE
Courage Kenny Rehabilitation Institute's Art of Possibilities Art Show & Sale is one of only a handful of juried art shows in the world exclusively featuring artists with disabilities.  Held every spring since 1963, the Art Show & Sale is a much anticipated event attracting hundreds of artists and thousands of visitors from Minnesota and around the world each year.  The Art of Possibilities Art Show & Sale provides a forum for artists with disabilities to sell their work, promotes the talents of artists with disabilities, and creates a cherished and inclusive community event for people of all abilities.
A HISTORIC EVENT  
The annual Art of Possibilities Art Show & Sale began in 1963. The Women's Auxiliary of the Sister Kenny Institute, created what was known then as the Art Show for Disabled Artists. The art show was the very first of its kind anywhere in the world.   The first show attracted 42 artists from eight countries and four continents. Since then, Art of Possibilities has become a major showcase of fine art and has attracted thousands of artists from nearly 50 countries.
A CELEBRATION IN QUALITY VISUAL ARTS
Nearly 200 artists with disabilities showcase their art each year.  These diverse artist styles range across a wide spectrum and are featured in six main categories:  Photography, Oils & Acrylics, Graphic, Sculpture, Mixed Media and Watercolor.   Artwork is reviewed by an art curator and a volunteer jury of professional artists, collectors, influencers, educators in the local arts community.  All art is original, completed in the last three years and available for sale.
A MISSION OF WHOLE PERSON CARE
Art goes beyond physical health and benefits patients, families, caregivers and all of us who experience it.  Art of Possibilities Art Show & Sale embodies Whole Person Care bringing together mind, body, spirit and community into the healing process.   The Art of Possibilities Art Show & Sale highlights the abilities of artists and also inspires individuals who come to Courage Kenny for therapy and rehabilitation who face similar barriers.
THANK YOU TO OUR SPONSORS AND DONORS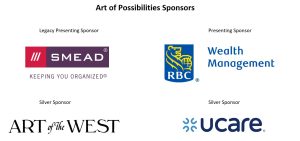 CONTACT
Art of Possibilities Art Show & Sale
3915 Golden Valley Road
Minneapolis, MN 55422
Phone: 612-775-2507
Email: artsearch@allina.com