ARTIST CALL FOR ENTRIES
PARTICIPATE IN THE 2022 ART SHOW & SALE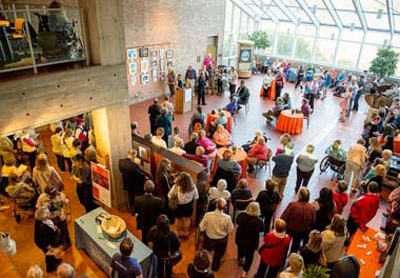 Courage Kenny Rehabilitation Institute invites all artists with disabilities worldwide to submit artwork to participate in the 2022 Art of Possibilities Art Show & Sale.  The Art Show has a rich tradition of exhibiting and selling the creative artwork of inspiring artists with physical and cognitive disabilities. More than 250 pieces are reviewed each year in six categories: Graphics, oils and acrylics, watercolors, mixed media, photography and sculpture. All work must be original.  Artists are limited to entering a maximum of four works and all art must be for sale.
The art show is held every spring.  The opening reception will be Thursday, May 5, 2022 at Courage Kenny-Golden Valley.  The in-person show and online sale runs the first three weeks in May.   The entry deadline for the 2022 Art of Possibilities is March 1, 2022.   We look forward to the opportunity to showcase your work!
Important 2022 Art Show Dates
March 1, 2022: Café Entry Deadline
March 18, 2022: Email Invitation to Participation
April 4 – 8, 2022:  Shipped Art Received
April 6 – 8, 2022:  Local Art Drop-off 10 a.m. – 2 p.m.
April 8, 2022  On-site Art Deadline
May 5, 2022: Art Show Opening Reception at Courage Kenny
May 6, 2022:  Online Art Sale Opens
May 6 – May 27, 2022:  Show Dates
May 23-27, 2022:  Pick-up/Shipping of Sold Art
June 1 – 3, 2022: Pick-up/Shipping of Unsold Art
July 1, 2022: Artist Payment Checks Mailed
QUESTIONS?
Call 1-888-413-3323artsearch@allina.com
or email
---
BECOME A 2022 HOLIDAY CARD ARTIST
Courage Kenny Cards is seeking artwork for the next holiday card collection.  The holiday card art search is open to all artists, especially those with a disability.
Courage Kenny Cards needs art suitable for holiday cards including traditional Christmas and Thanksgiving images. Two-dimensional artwork is selected based on artistic merit, suitability of subject, color and holiday card market trends.
A $400 licensing fee will be paid to the artist for each piece of artwork chosen, in addition to national exposure through the distribution of more than 300,000 catalogs and promotional pieces, radio, Internet and print advertising.  The card artist online call for entries is open from October – January of each year.
QUESTIONS?
Call 1-888-413-3323artsearch@allina.com
or email